Diagnosing the noble disease - how we treat journalism in the 21st century.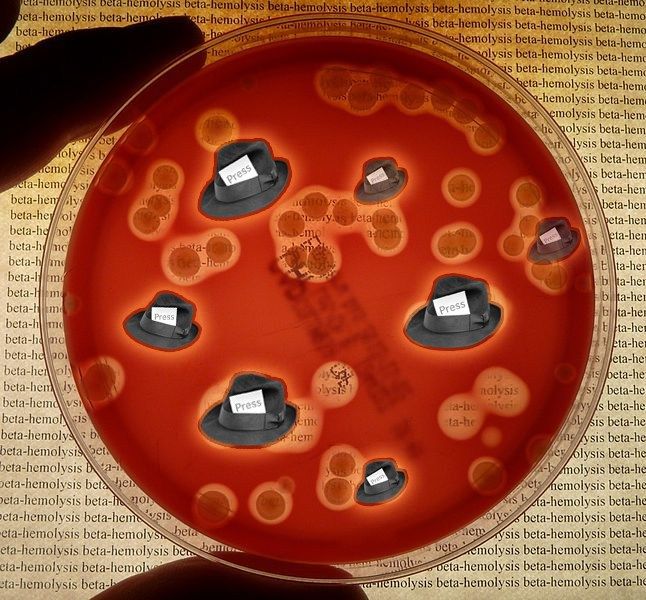 This is the original script to a short presentation I gave University of Northampton's 'Imagine Journalism in Ten Years' Time' mini-conference chaired by Kevin Marsh,  and organised by John Mair. Other speakers included: Professor Jay Rosen; Matt Andrews who has his talk here ;Teodora Beleaga, who has her slides here, and Judith Townend who has put her slides and talk online. The talk is a development of one I gave last year at last years Nordic media festival and an ethics lecture I gave a few weeks ago. (which I may put up here soon)
Journalism education is at an inflection point. The mix of disruption in the journalism industry and in the education market has created a growing movement demanding a radical rethink of the what, how and who of journalism education. This paper takes the position that this also calls for a rethink of the way we frame journalism when considering how we might react to this changing environment. It rejects the idea of journalism as a profession in favour of the idea of journalism as a diagnosis.
In thinking about where journalism is going to be in ten years or so, I've been thinking a lot about big toes. I want to take the next 10 minutes or so to tell you why.
A few years ago now we actually got some people from industry in a room and asked them what the journalist of 2015 would look like. The first thing they said was quarter-past-eight was a more realistic goal. Twenty-five past eight is still not quick enough.
Here are some of the things the identified:
Technology and practice
Design principles.
Content management and online publishing
Storytelling and the impact of new mediums
Multimedia – video, audio, photography and image manipulation
Web technologies
Social networking and Web 2.0/3.0
Semantic web and what that means for journalists – Tagging, Geotagging
Search engines and their impact on content creation
Budgeting, business practice and legislation
Developing entrepreneurial skills
Building a personal brand
Interpersonal Skills
Identifying, developing and pitching an idea for a multi platform project
Building Networks and Managing Relationships
The editorial, legal and ethical challenges of developing and managing UGC
Managing a complex multi-platform production
Thinking about what I teach, this is pretty much how things break down:
Social media
Curation (real time curation) –
Data Journalism – big data. Transparency vs accountability.
Community
Multi-platform – the impact of community and persistence
Innovation
Entrepreneurship
Much of that could be dissmissed as overly practical – lots of digital toys. But I just want to point out how much conversation they generate around law, ethics and personal and professionalism identity. This is not just playing on the web!
To try and sum that up in to the kind of person we want to produce – the journalists of that future we are talking about today will be:
an innovative, social media savvy, data aware, community-connected, curator, working across multiple platforms…
Given where I am and who is the room I think it's valid to take a little detour from what we teach to How we teach.
Like the journalism industry, education has been disrupted by new technology (and no small amount of political and social disruption too).
Howard Finberg one of the directors at the  American Poynter institute told an audience at the European Journalism Centre that Journalism education is at its own inflection point. He sees one possible response to this as* *
the unbundling of a journalism education from a journalism degree. Think about the unbundling of news and information from the traditional mass media delivery methods, such as a newspaper or television broadcast.
He questions who we care about the most in journalism education claiming that making about the faculty the center of the decision making process is a recipe for what Eric Newton at the Knight Foundation refers to this as a "symphony of slowness."
There is an element of the Utopian in a lot of the rhetoric around this idea; the idea that the internet will solve the problem; it will make information accessible to everyone. But there is also more than a good deal of commercial concern, often unspoken; can we make money?
One of the unbundling projects at Poynter's News U (one that Finberg cites) charges $65 for their introduction to journalism module but (as of yesterday) it's only available to registered students at Florida state.
In one sense might not seem so revolutionary when it's not quite as unbundled as the ideal would have it – it's more an extra to the Florida degree bundle. But the level of student engagement tells a story about the way that people want to learn as much as the state of the industry in general tells us about the way people want to consume news.
So, like the journalism industry, the education industry looks to change the way we do things.
Clearly that's as much about the way we teach as what we teach.
For the progressives, looking to the Internet enabled* mass teaching movement*, that's as much about understanding that we need to engage with more than our students. We need to open up and engage with the community around us. Now I bet that does sound familiar to the industry people in the room…
A popular peg for this is the teaching hospital analogy. The idea of learning by doing is not new in journalism – education or industry. But the importance of community engagement comes idea comes from a heavy commitment to the Civic and participatory Journalism movements: It can't just be an issue of practicing on the community it has to be practicing with them.
Digital as well as media literacy often go hand in hand in civic journalism.  Alberto Ibargüen, Knight Foundation's president and CEO commented on the importance of this (as he said thanks for a whopping great grant to help facilitate it):
"In the 21st century, successful communities will be those who can best connect with each other and the world using digital media. "
The connection between what often gets called Media literacy and democracy is one that journalism has never been afraid to co-opt in to the formulation of its own identity the fourth estate. In that sense I suppose we could also say media literacy has never been too far removed from discussions of media ethics  – You need to understand what and how journalism works to be properly critical of it. A challenge for journalism at the best of times let alone, at least in the UK, in this post-Leveson world.
So the idea is that we (journalism education) should** educate people to the way we do things** (essentially the practical stuff) in journalism as well as** equip them to understand the way what we do affects their world** is not just a key part of us surviving the disruption but a key part of sustaining democracy.
Enabling a plurality of voices is something that is meant to be part of what we do in journalism. But what is being suggested here is that we are also about aiming people to do it without us – to fill the gaps. It should be part of journalism educations job to enable the bottom-up corrective for the mostly top-down perspectives of the news media.' Gans (2003:103).
This perspective inevitably gives rise to the idea of citizen journalism – trust me, it does!
And in that conversation about the way we teach this new cohort of semi-journalists to be media literate *(how gloriously pompous is that!), *draws our attention to the elephant in the room : Who we should be teaching?
So, as much as the journalist of the future may well be:
an innovative, social media savvy, data aware, community-connected, curator, working across multiple platforms…
**** they may also be someone:
…who doesn't work for a media organisation.
Perhaps we could call it unbundling journalism from the media.
At the very least its about finding a different way to talk about it that isn't bundled so heavily with the institutions of journalism and journalism education. That's why I like to think about the idea that journalism is a diagnosis not a profession
To finish, let me make sense of the big toe reference. I want to talk about gout.
Gout is a disease that's typified by an inflamed, red, very painful big toe.It's been referred to as a noble disease. One respect a noble disease is one that comes with no stigma – like cancer but unlike mental illness say. But in the case of gout, noble means: distinguished by rank or title.
It's been called the patrician malady – "Historically seen as a disease afflicting upper-class males of superior wit, genius, and creativity" The The Oxford Illustrated Companion To Medicine notes that the Roman poets suffered a lot from Gout and notes that there was an effort to frame it as a noble disease whose sufferers could trace their family line back to Ulysses (Odysseus) the legendary Greek king of Ithaca. You know, the big poem.
The truth is it's called that because you often get it from a rich and privileged diet – over eating and too much rich wine.  It's confusing noble with privileged and trying to spin the negatives.
In some ways I think we have come to think of Journalism as a noble disease. You're special if you have it. Second only to "kings and poets".
Of course anyone can catch gout just as, in my view, anyone can catch journalism. Maybe we are guilty of building up a structure that simply sustains a romantic view of  what has essentially become an industrial disease.
When we talk about the future of journalism it's clear we need to think about journalism differently. The core concepts of democracy and social responsibility are coming to the fore and in a practical and collaborative  way that goes beyond simply claiming them as defining parts of a professionalethic – they are symptoms.
Clearly many people think that it's the job of education to break out of the sanatorium business and help those who have caught it to manage the condition in a way that is beneficial to them and society. In that sense  trying to understand the future of journalism is an exercise in epidemiology rather than forensic pathology.
Notes:
As seductive as the teaching hospital model may be I don't think it quite holds up in respect to its community service remit beyond filling a media hole.
When questioned about an apparent contradiction in the idea of caring about the people you work with in a community – something I talked about in developing the broad themes I teach, I made the point about the difference between the care and commitment an individual journalist makes to a person or audience vs a media organisation, both different in their own way, For me the model of the individual, socially responsible journalist is the more robust in the future. The institutional social responsibility of the media organisations (you get what we think is best for you) is, for me, one of the key factors in msm's engagement problems.
You have no idea how long I have been searching for diseases to use as an analogy. I think gout works well but maybe the fact that I looked so long says that the whole endevour may not be worth the effort.Sorry for those who have had to sit through me trying it out and  I'd love to know your thoughts on the whole thing.
Image from Wikicommons and officialpsds