Ebola Zombie image hoax: A useful reminder of the value of reverse image search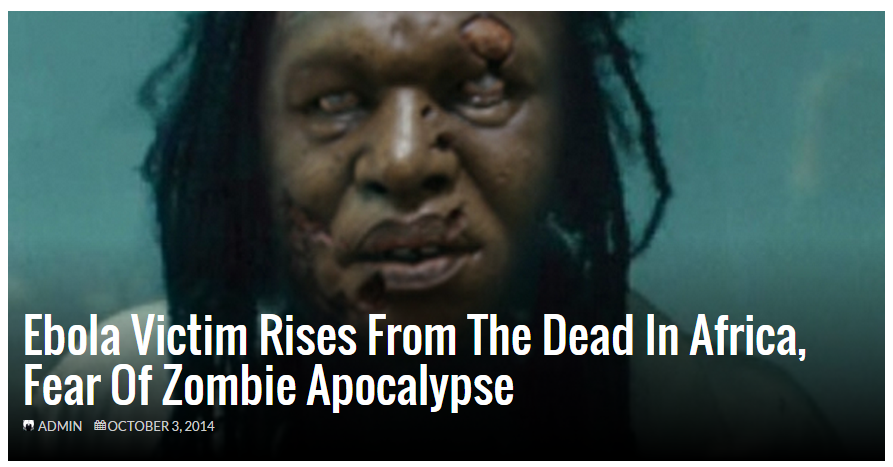 Update: This is an insanely popular post on my blog in terms of people searching for ebola zombie. Even if the picture wasn't the thing that made you search for Ebola Zombie, I think I can say with some certainty that any report you've read of ebola zombies is false.  **
I was casting an eye over my twitter feed today when I saw this from  @TheMichaelMoran
Journalistic rigour, there. http://t.co/Ymacvn9
It links to an article with the headline "Ebola Victim Rises From The Dead In Africa, Fear Of Zombie Apocalypse". It's all kinds of wrong and, trust me, you don't need to click through.  In fact if you happen to know the person who wrote it, for all kinds of reasons, they really should get (at the very least) a shouting at.
It's staggering how powerful these linkbait engines are with shit like this. The social amplification alone on this means that I'm pretty sure that, want to or not, you'll get a sense of this in your feeds at some point.
Of course, it's been spotted by a number of people including, I discovered after a quick search,  Gawker who featured it in their Anrtiviral feature last week.
But…and I really must stop thinking about it because it's very, very depressing…it serves as a useful exercise in image checking. which I'm sticking-up here as reference for students for two reasons.
The first, and it's a bit of side issue, is to note the filename. In this case it's* third-ebola-victim-africa.jpg* .  Yes.You can SEO your images!
The second is, as much as anything else of the usefulness of reverse image searching:
So the image:
Is actually a mashup of this, from (world war z)
and this mask, from make artist Jordu Schell at http://www.schellstudio.com/
And the easy way to find out…
Or
Click the little camera icon
You have to work a little harder with Google's reverse image search. But it gets you there and it often has a little tidbit of something to start a trail when TinEye has no results.